Build Your Virtual Team With Healthcare Virtual Assistants ®
Tell Us Your Staffing Needs
We'll Match You With Top Talent
Meet a Few Healthcare Virtual Assistants ®
Jessica is a registered nurse. She has 4 years of clinical experience at St. Luke's Medical Center. She received a Bachelor of Science in Nursing.
Aldrich is a registered nurse. He has experience working as a clinical nurse. He also has experience handling phone calls for a medical insurance company in the USA.
Jane is a registered nurse. She has 5 years hospital experience as a staff nurse. She is a fast learner, hard-working, and very efficient in her work.
4 Ways a Healthcare Virtual Assistant ® Can Help Your Practice
Bring your healthcare virtual assistant® along into the patient exam room and they will live-chart the patient visit real-time.
Referrals, Phone Calls, and More
Your HVA can handle a variety of office tasks, such as phone calls, referrals, prior auths, insurance verifications, appointment confirmations, and more.
Upload your dictation to a secure cloud-based file-sharing service and have it transcribed directly into the patient's chart.
If you have a job that's not listed, your HVA can usually be trained to complete it.
A Workflow Example With A Healthcare Virtual Assistant ®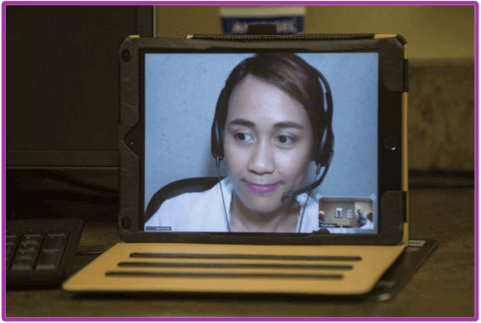 A healthcare virtual assistant® (HVA) can be accessed via tablet or laptop. Here's an example of how you can take your HVA along to live chart in the patient exam room:
Start video session with HVA on your preferred device
Enter room; Introduce HVA to patient and explain the reason for their presence
Place device in strategic location so HVA can view the patient encounter
Conduct visit with patient as usual (your HVA will listen in and live chart as you go)
After the visit, you may review information with your HVA and add additional details to the chart as needed
At the end of your session, you may clarify any questions your HVA may have
Review the notes and sign off
You just saved hours of your day!
How It Works With Dental Healthcare Virtual Assistants ®
Choose your Healthcare Virtual Assistant® (HVA)
After reviewing their online profiles, choose and interview a healthcare virtual assistant that best fits your needs. You get the same HVA, everyday.
Get Connected with your HVA
Connect with your HVA via secure video conferencing. Get them access to your EMR/any other software they may need.
Set an Official Start Date
Work with your HVA to set a daily/weekly schedule with them. Just like someone in the office.

Discover what Hello Rache can do for you and your practice
Tell us more & we will contact you within 24 hours